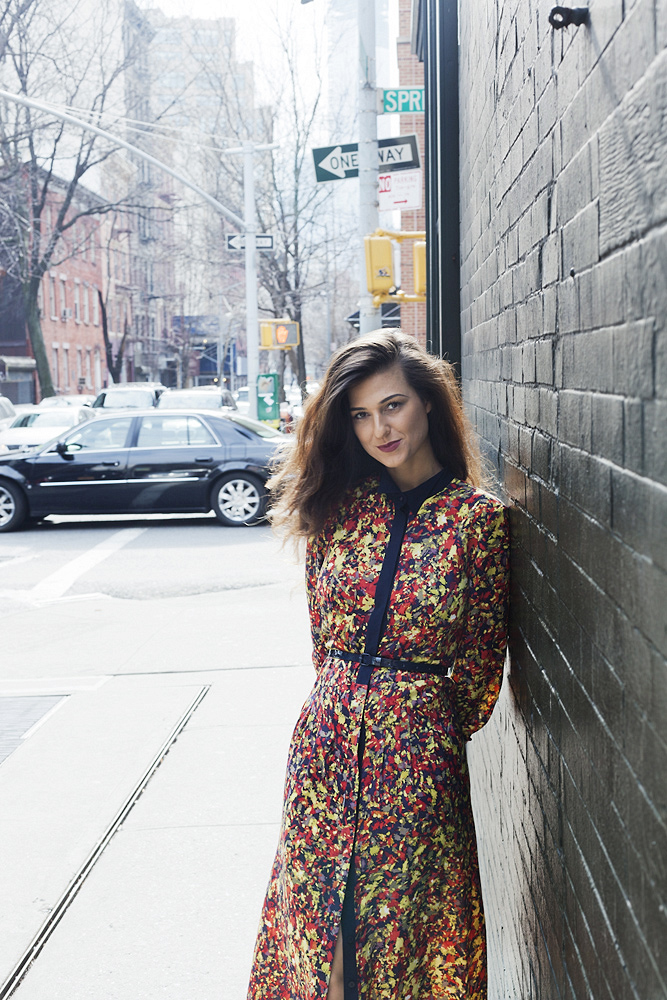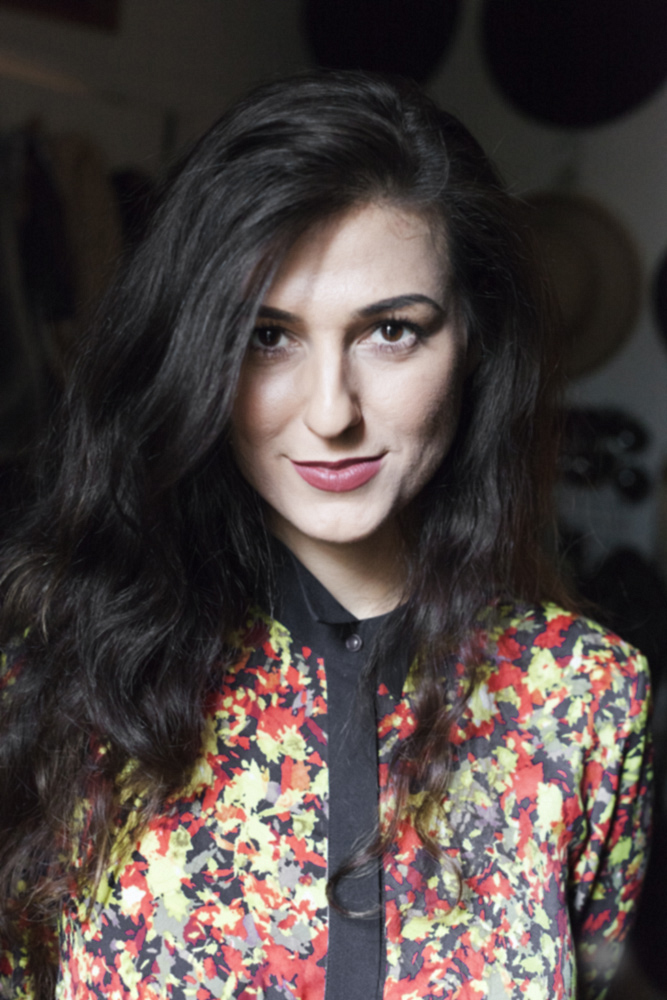 This is REALLY REALLY cool.
A few weeks ago, two amazing ladies from Elle Interior Sweden came over to my little apartment in Soho to interview me about my home. We talked about my aesthetics, my life in NYC, and how it is living with Adam.
For my Swedish followers, you can read the interview and see more photos here.
For my REGULAR readers, I have the normal English version below.
But do check out the original site to see more photos and to peruse other great interviews by Katarina and Agnes.
Thank you again ladies! <3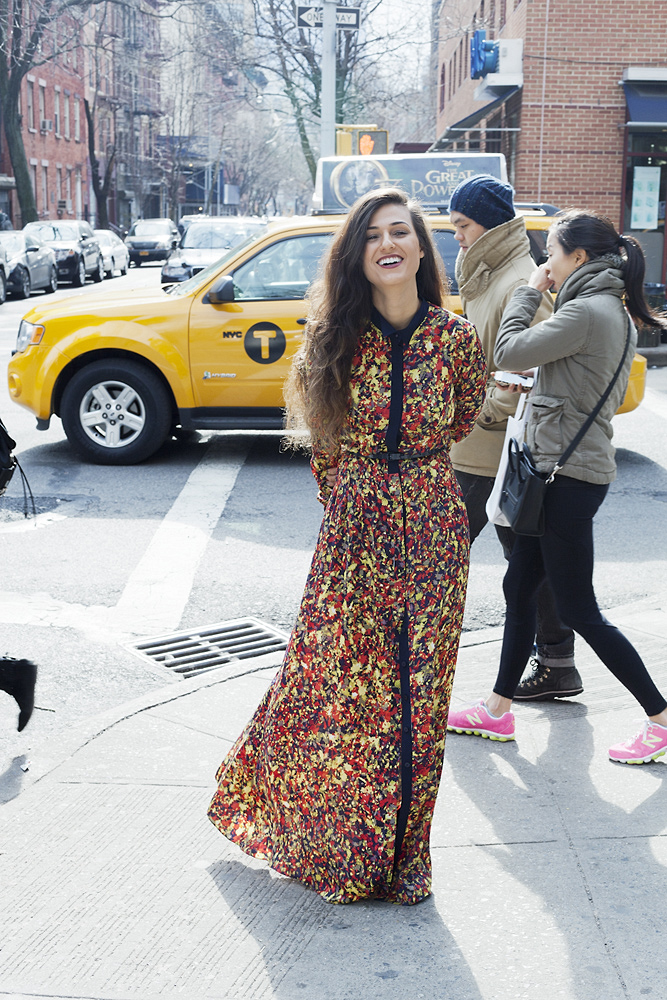 At first glance, the Soho apartment that our friend Dana Suchow shares with her boyfriend Adam Katz Sinding seems seamlessly put together. Take a second look and it becomes pretty clear that the space is inhabited by two people with very different – and very strong – aesthetic tastes. But somehow, where the maximalist publishing assistant/blogger meets the minimalist photographer, magic happens.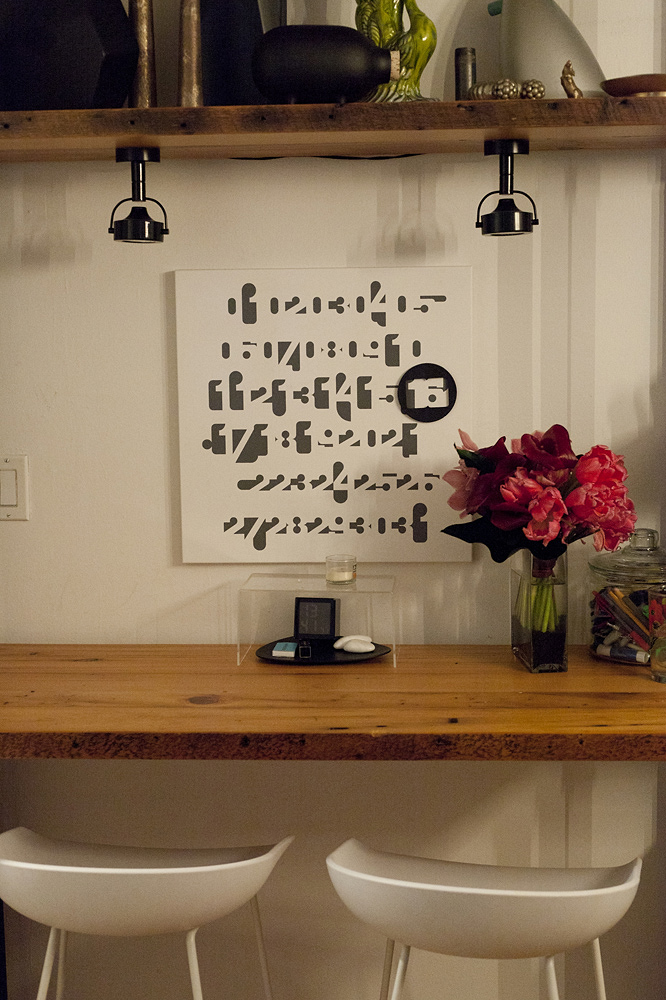 The couple met when Adam photographed Dana for a Streetstyle story almost two years ago. Since then they've been inseparable and in June last year they moved into this two bedroom apartment where they live with Dana's loving cat Vita. Normally, we're used to the smiling, crazy San Francisco native we see on her blog Blind Stab, but when we visited, Adam had just left for London Fashion Week, making her choke up at one point. How adorable is that?? Oh, love… You can follow Adam around the (fashion) globe on his blog Le 21ème, but first, let's take a look at their perfectly mishmashed home!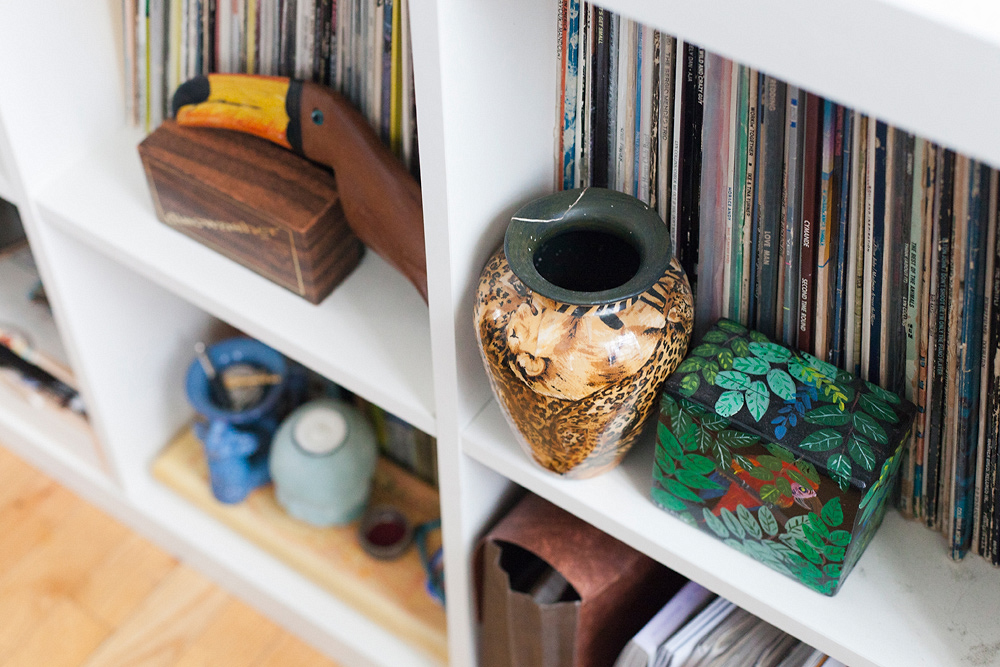 "I love living in Soho. There's so much to do, I feel like I never have to leave my neighborhood. I'm always trying weird diets: vegan, gluten free, juice cleanses, macrobiotic…and there's literally a restaurant for each of those diets within one block of my apartment. Living in Soho makes it easy to be insane. And everyone is really well dressed around here. It's rare to see people doing laundry in sweatpants and Uggs. Or maybe they just hide when they see me because I yell obscenities at them."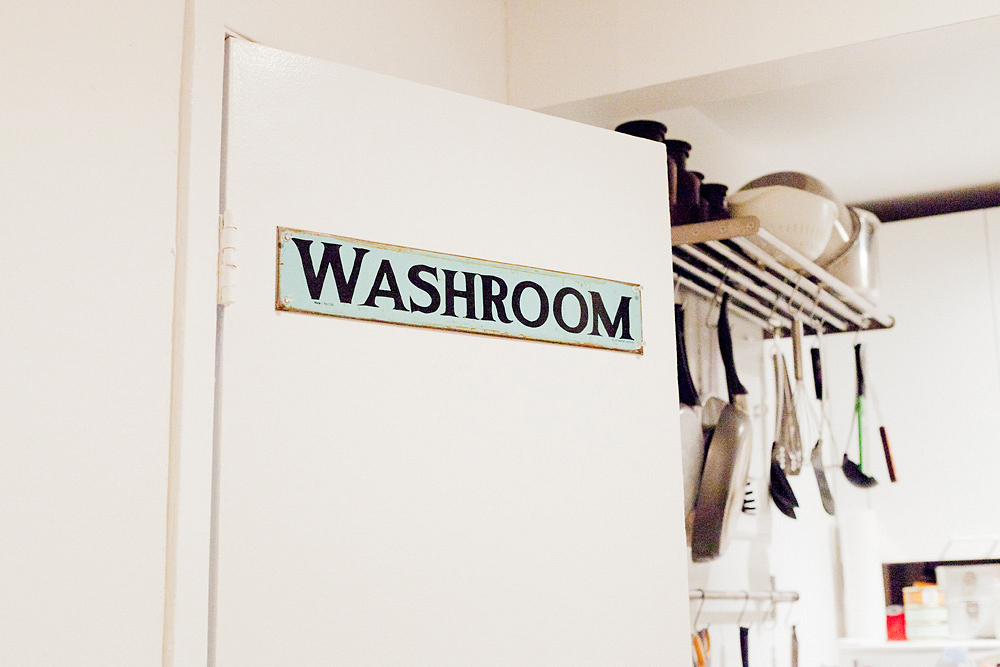 "When we first moved into the apartment, we had boxes stacked to the ceiling – so we donated A LOT. Actually I donated a lot….I think I got rid of almost 50 pairs of shoes to move here. The bed and the kitchen were the first things we set up. Sex and eating, that was all we needed. Actually, for me shoes came first, then sex and eating, ha! We built the shelves in the living room together. It was the most fun yet stressful thing I've ever built. We had to carry the wood down 4 floors to the street to drill the holes. Then we got the wrong sized pipes and had to return three times to the poor man at the plumbing store in Chinatown who spoke no English. These shelves were LITERALLY made with blood, sweat and tears…and vegan gluten free pizza from around the corner."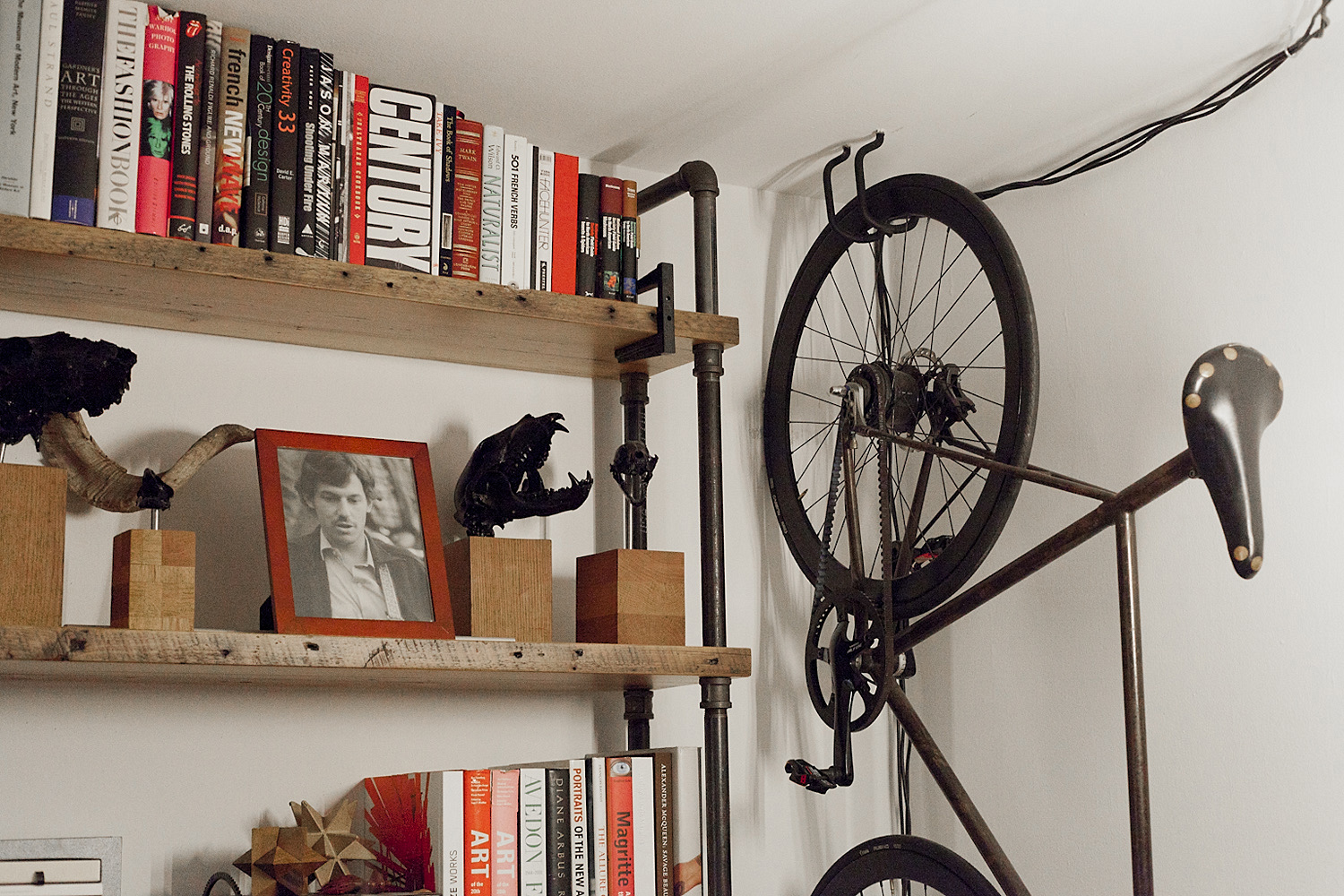 "We have very different aesthetics so it was a process to put our home together. It's still difficult! I'm from San Francisco and a lot more hippie-ish. I had a lot of nicknacks from Goodwill, mis-matched bowls and purple chairs. Things I was holding onto that didn't fit my aesthetic anymore but I had a history with. Adam taught me how to let go of items that weren't serving a purpose anymore. So although it took a long time, we slowly helped each other weed out the good and the bad and now have a beautiful, well-thought out apartment to show for it. He picked out the sofa, but I decorated it. So everything was done together. I love this painting, it's my favorite colors. It's one of the only things Adam doesn't like, but it's a Goodwill find I can't let go of. It's falling apart and every time I touch it I get a splinter, but I feel like it completes the living room…also I'm afraid to move it because I don't want another splinter."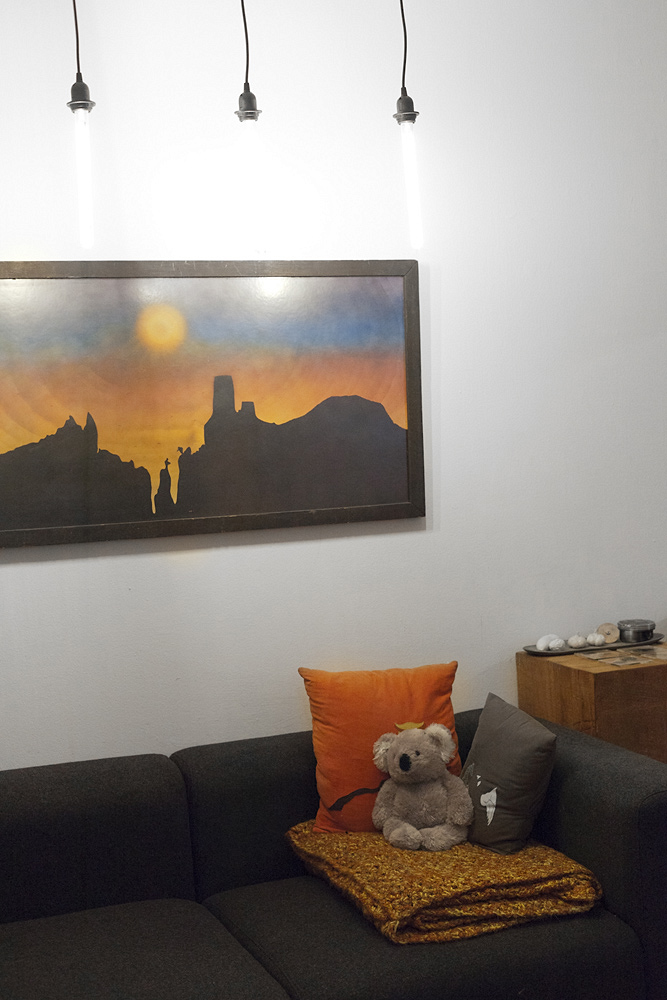 "The art in the bedroom is really loud and colorful. Adam's dad painted some of the pieces, my dad did another one and the pictures are of his parents. The curtains come from Adam's incredibly talented mom, Diane Katz Designs, and we had the nightstands made specifically for us on Etsy. I brought all the records from California, I used to dj when I was in San Francisco. The brick wall weirds me out because I think a bug is going to crawl out from the cracks into my ear while I'm sleeping. But it looks pretty!"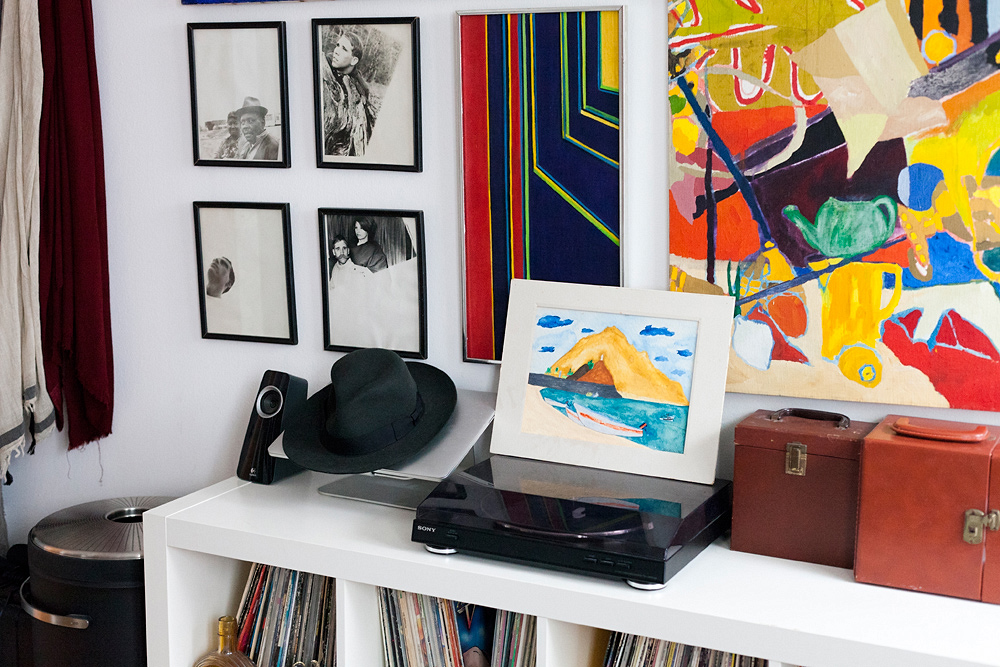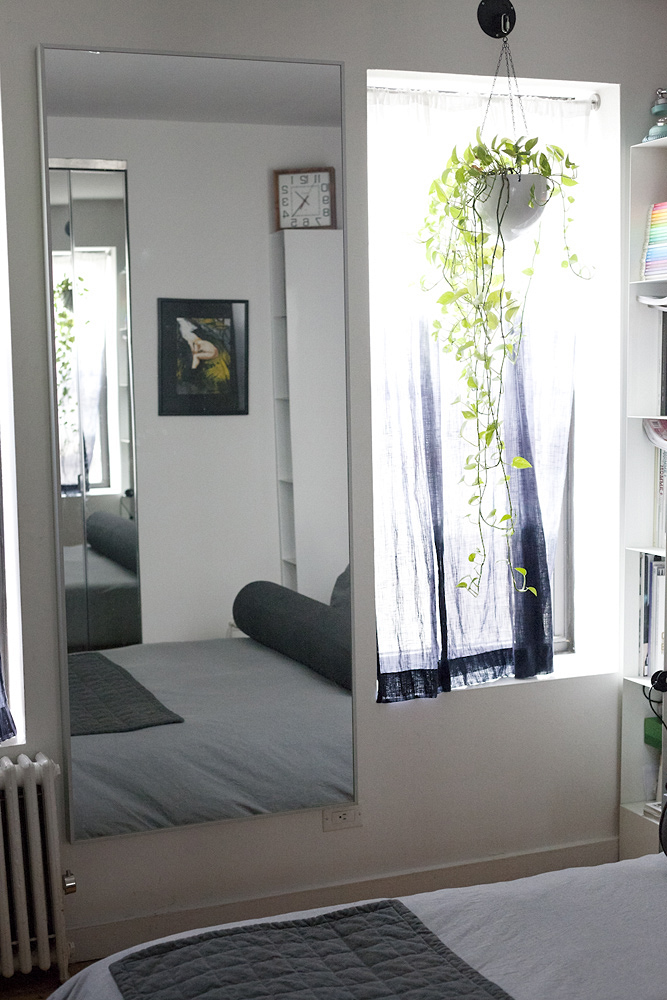 "From the moment we saw the apartment, we knew we had to turn one of the bedrooms into a closet. With the amount of clothes we have, there was no other option. In San Francisco, vintage is really cheap, so I became kind of a clothes hoarder. I keep shoes under my desk at work because I don't have enough room for them at home. I have a lot of vintage pieces that I'll probably never wear again, but they carry so many memories. I'm slowly getting rid of pieces as over the years my color palette has changed from 70's psychedelic swirl to monochrome neutrals. But if I'm all about quantity, Adam is about quality. I'd rather go to The Salvation Army and get ten bags of clothes, whereas Adam would rather get one sleeve to a Carol Christian Poell jacket for the same amount of money. You can just look at how our closet is arranged, and get a feeling of who we are as people."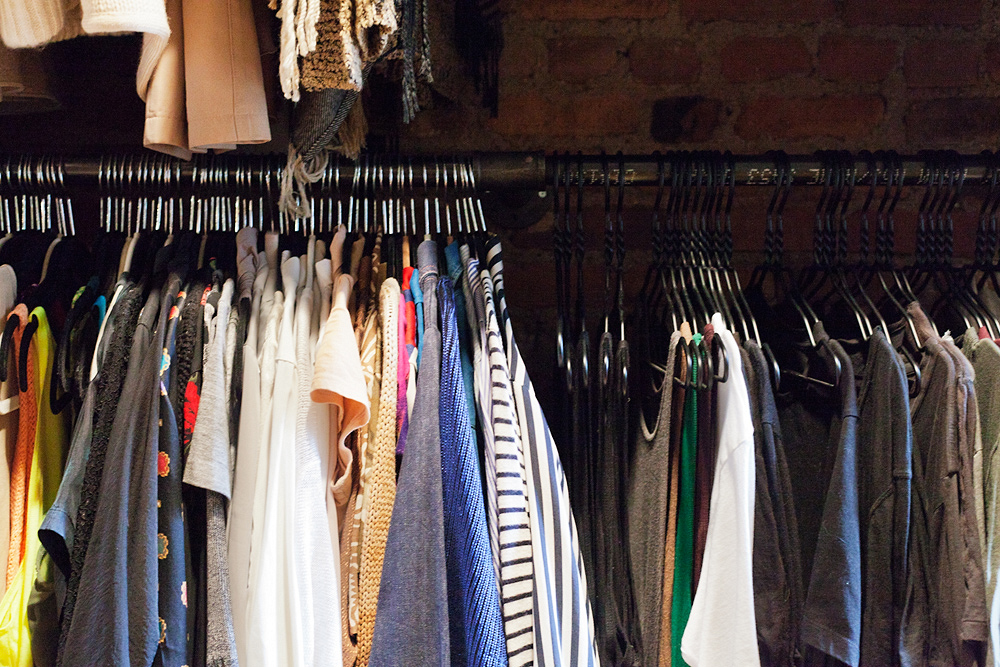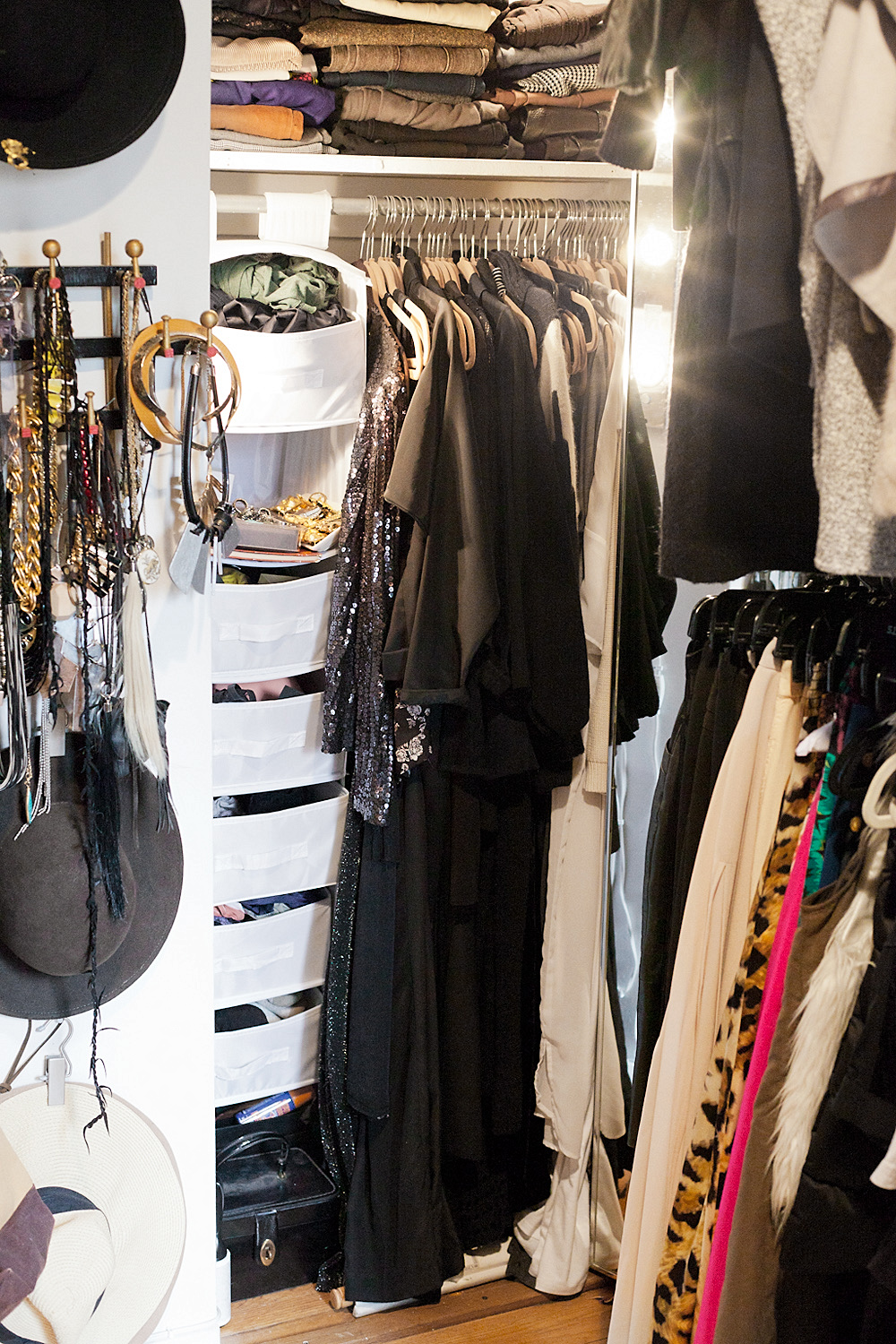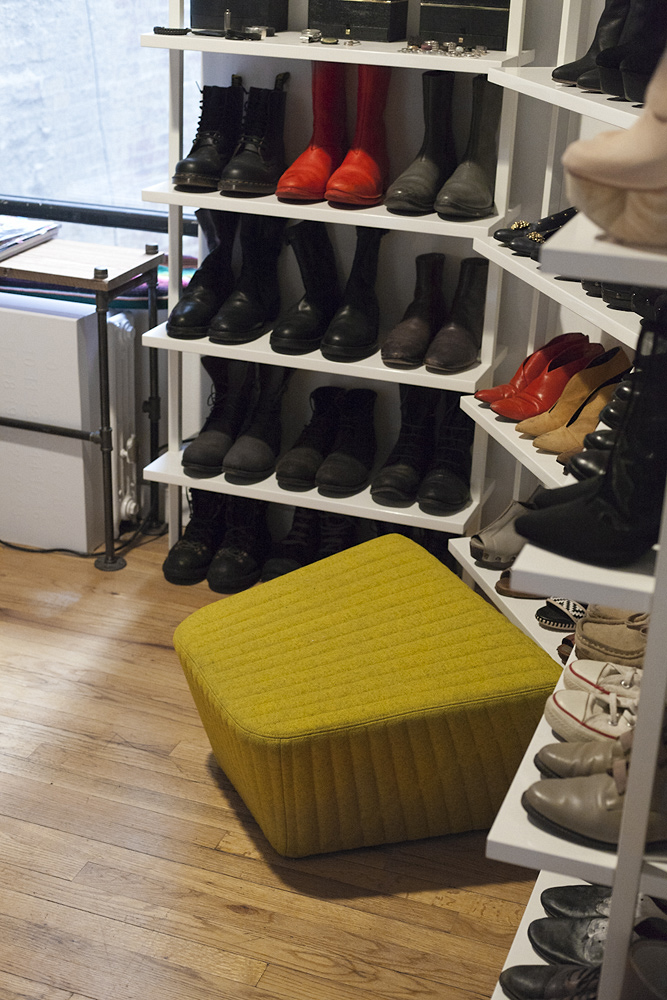 "We're so opposite about stuff. I'm all over the place, and he's so structured. I like things a little mishmashed, he's like 'It should be gray, same brand, color, theme.' But we're both a little crazy and complete each other. We're like yin and yang. It has been a learning process for both of us. I feel like wherever we live, the apartment will never be complete. We are always changing."
I am: Sort of insane.
My home is: Incredible.
Last in: These ETS platform boots.
Last out: Probably a bag of clothes that I'm sure I'll regret. Along with my boyfriend, haha.
I read: It's totally random, but I'm reading a gluten free diet book, "Wheat Belly" by Williams Davis, MD. I'm trying my best to fit in and be a New Yorker with a weird food allergy.
I watch: "House Of Cards". It's incredible. Seriously. Kevin Spacey. Robin Wright. BAM.
I listen to: There's a Jamaican restaurant close to where I live, Miss Lily's. We ate there just before Adam left for London and they were playing this reggae mashup of The Gossip. So now I'm obsessed with this song and have been playing it on repeat. 
I wear: It's hard to look fashionable when it's so cold! In my opinion, Uniqlo has the best winter clothes. But for the most part, I wear blazers, vintage suits. Although I work in an office during the day, I try to look professional all the time. I never know who I'm going to meet, and I always want to make the best impression possible.
I get inspired: I definitely get inspired by Adam and his photography. Older photos of my mom and her style. A lot of my vintage stuff is from her. And just staying alive in New York is inspiring enough.
I dream: Of traveling! To be able to do my blog full-time. To have a bigger closet, haha! And to have a pug.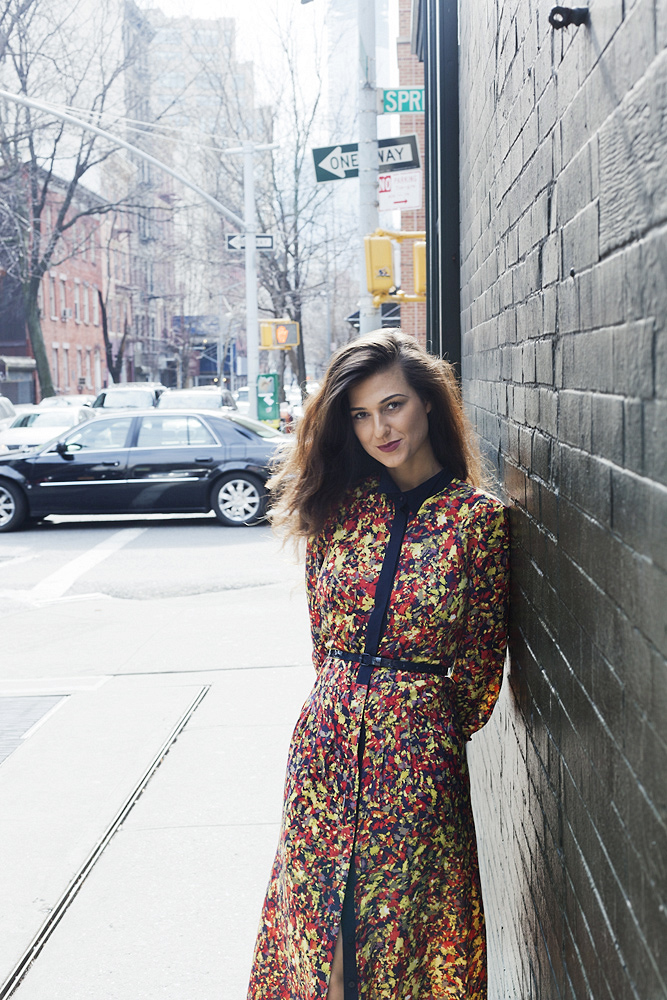 LATER DUDES XX-DANA
_________________________________________
Follow Hotpants