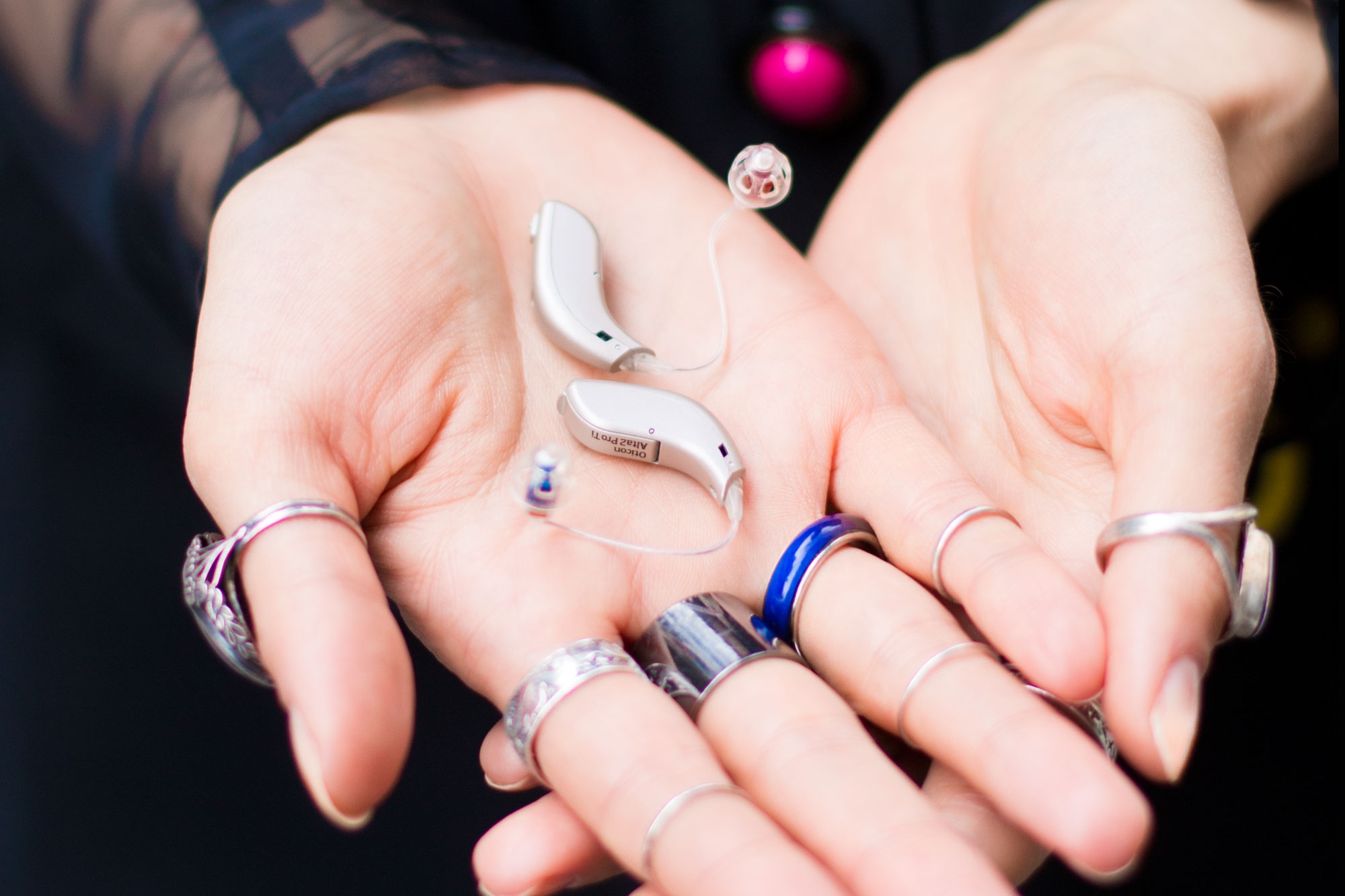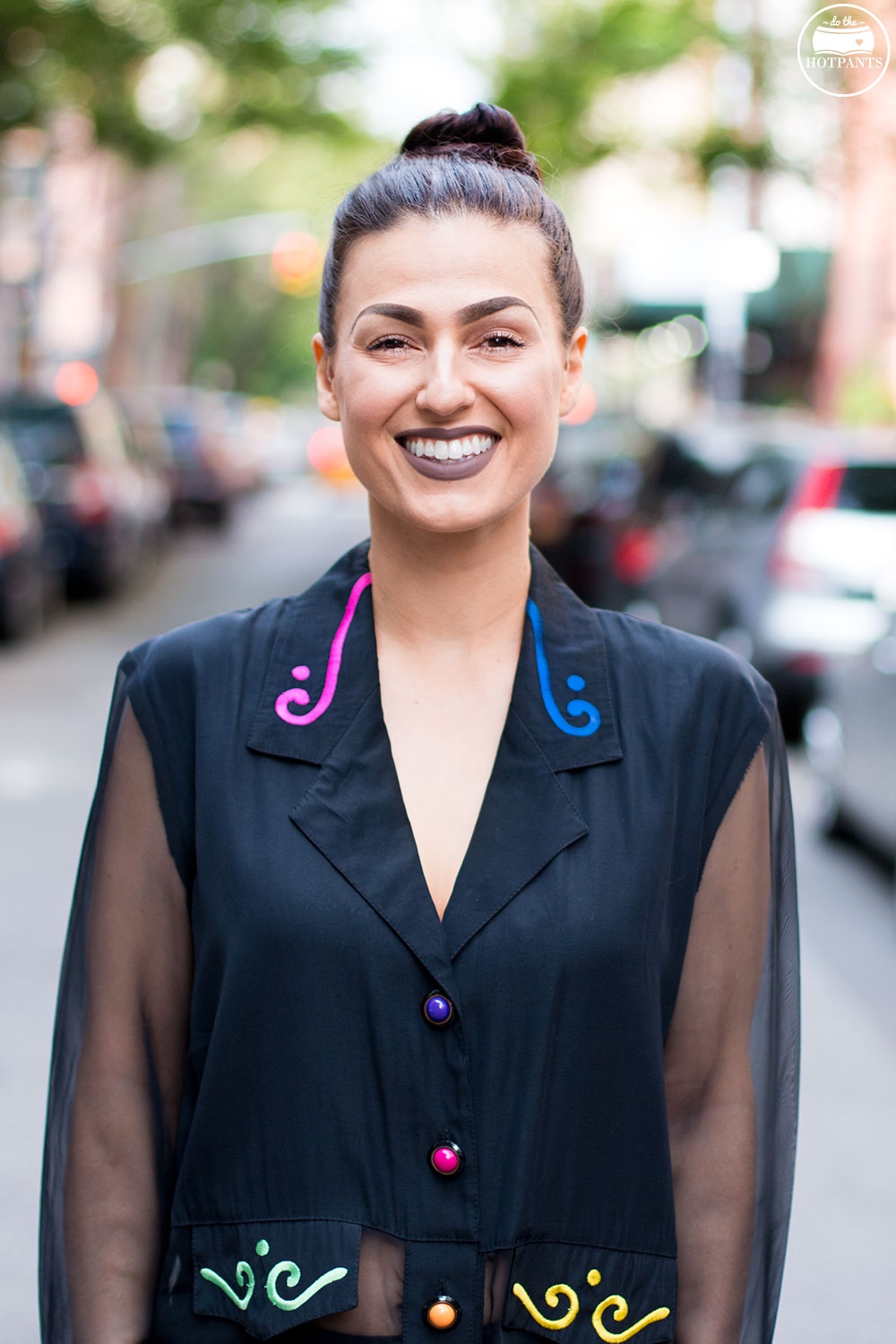 Welp!
The cat's out of the bag. I can't hear very well.
¯\_(?)_/¯
I got my hearing aids 2 months ago, and I'm just now able to talk about them with you all.
I'm wearing my tv ears hearing aids in all of these photos. Try to find them.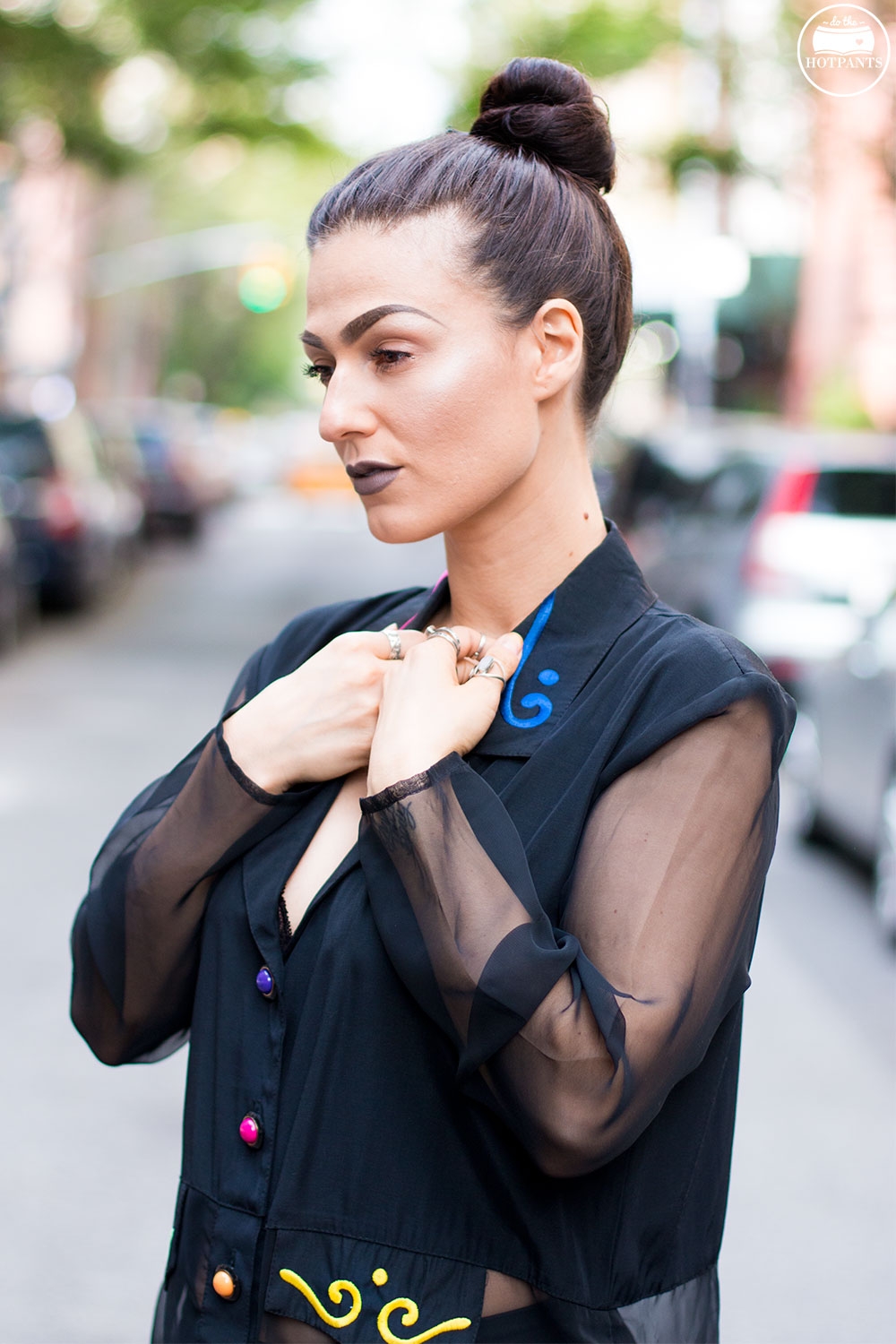 For the last year or so, I've felt like everyone around me is mumbling.
Not all the time, but whenever I have quiet 1:1 conversations with friends or coworkers (or doctors or strangers or baristas or anyone at all), I find that I have a hard time understanding exactly what that person is saying. The sentences sound fuzzy, like the person is speaking with cotton balls in their mouth. I say "what?" and "huh?" a lot, and lately I've had to watch movies and TV shows with the subtitles on.
But I didn't think anything of this.
I honestly thought everyone around me just kind of mumbles and needs to either speak up or enunciate better.
3 months ago, a coworker told me I might need to see a doctor and get my ears cleaned. She was half-joking, but I had been asking her to repeat herself for over a week because I couldn't understand most of what she was saying to me. I thought maybe she was right, that wax buildup was the cause of my "hearing issue," so I made an appointment with an ENT (ear/nose/throat) doctor to get fixed.
Of course, at the ENT appointment, the doctor looked in my ears and said they were super clean, and that I needed to see an audiologist. Crushing my magical dreams of suddenly being able to hear birds chirping and flowers growing.
So although slightly freaked out, I found the best audiologist in my area on Yelp and made an appt.
And that's where it all went downhill.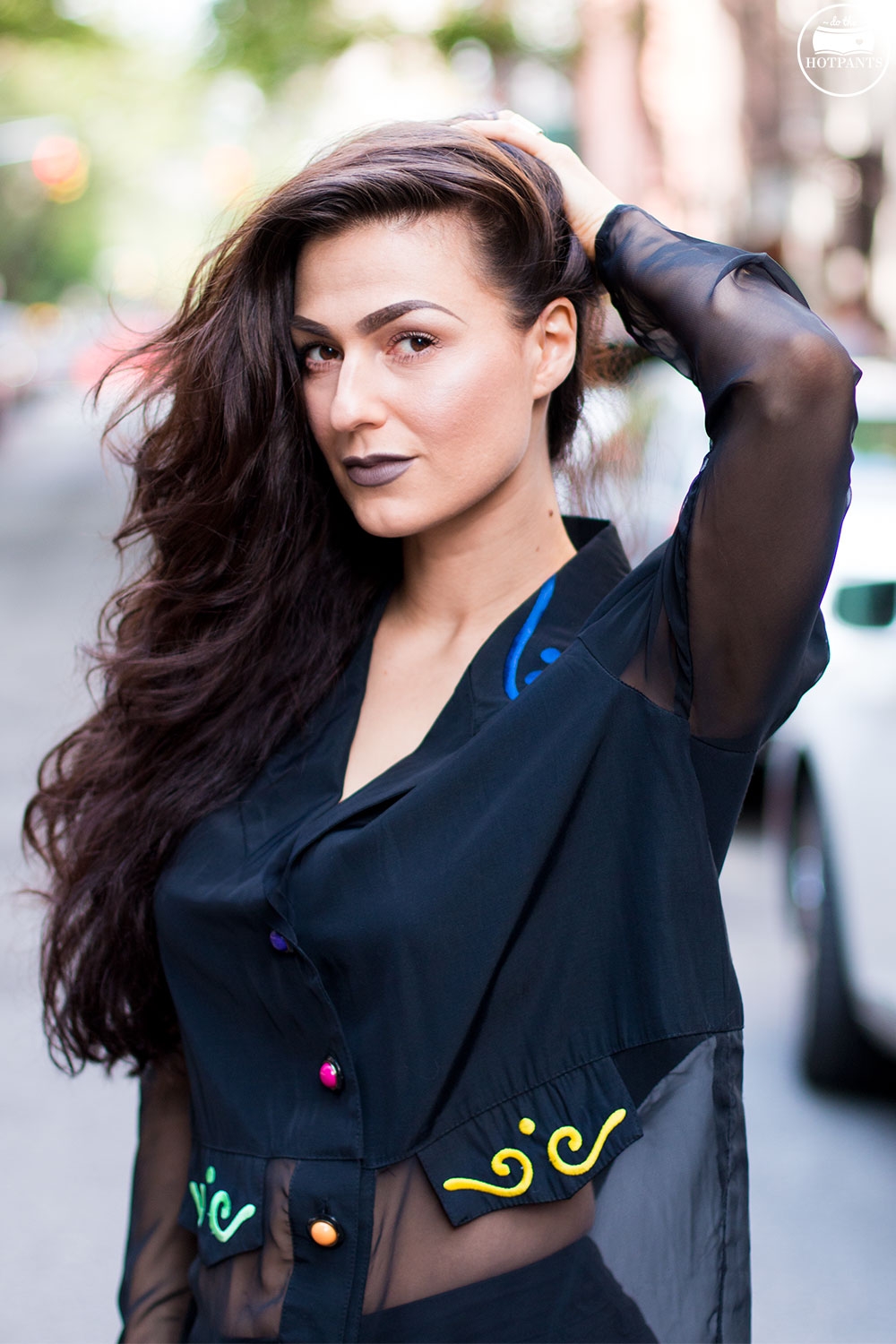 Since I was 18 years old, I played keyboard and sang in rock bands.
I wrote songs about teen angst and heartbreak. I played the keyboard every weekend at shows until my hands were sore. I belted and yelled on tour with a full band all over California. And I repeatedly played my heart out at max volume, all without wearing earplugs.
I was in my twenties, and I never saw anyone cool wearing earplugs at shows or at band practice. Earplugs were for old people who didn't like loud sounds. They were for little kids at music festivals. They were for anyone who didn't "appreciate" music.
But they weren't made for punk kids who loved noise.
Throughout my band days, there would be times I left band practice late at night, and my ears would ring for days afterwards because we played so loud. But still I never wore any protection. I thought my ears would just heal and return back to normal.
Boy was I wrong.
Over the last few years, my tinnitus (ringing in the ears) has been getting worse. Just this last year it has finally gotten so bad that I now have it 24 hours a day. It used to just happen for a few hours after concerts or band practice. But now the ringing in my ears never stops, day or night. Being in a completely silent room now can be so annoying that it borders on painful.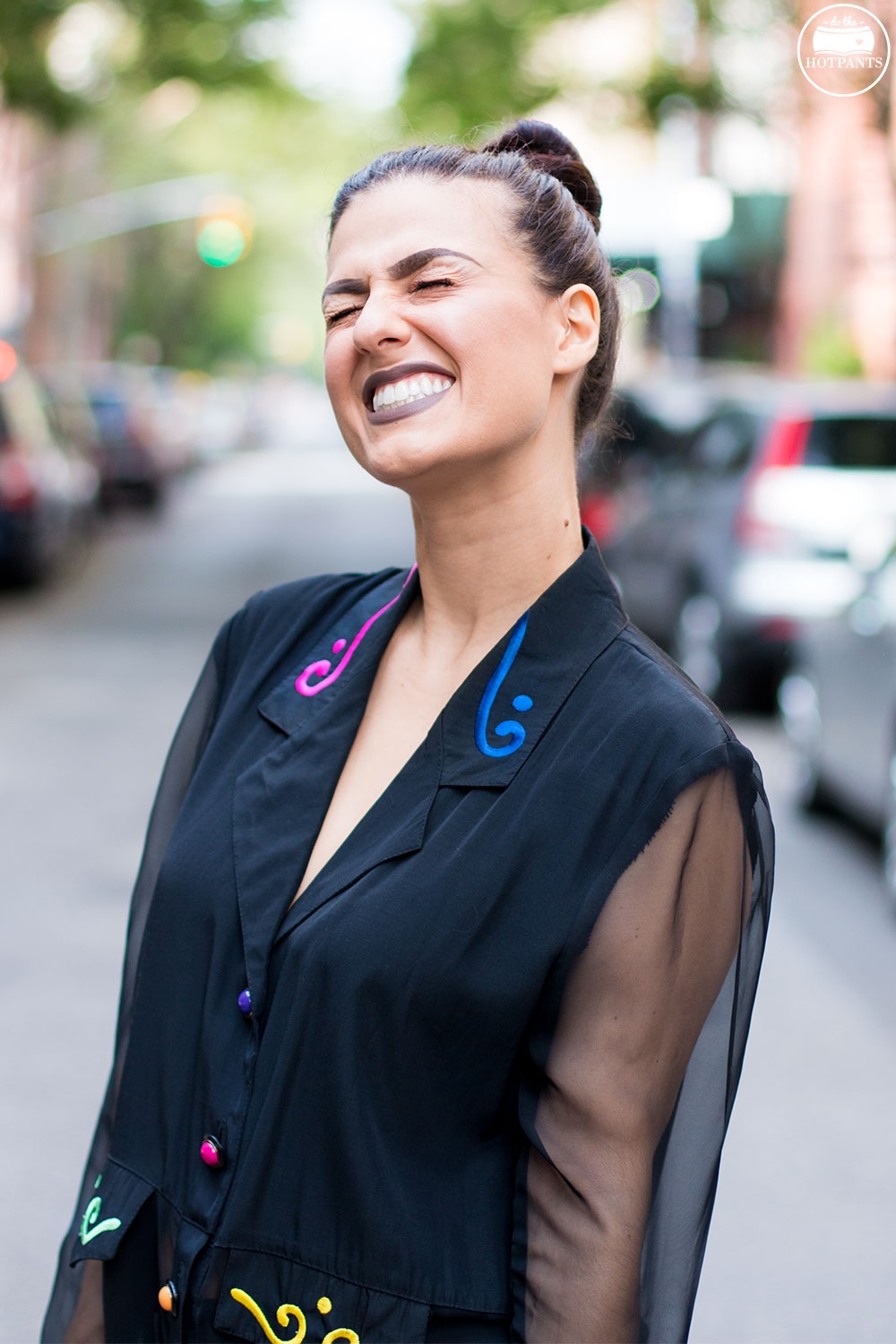 At the audiologist's office, I told her my history with music and how my ears ring nonstop now. I told her that being in loud restaurants or loud movie theaters is painful and how it feels like I've become hyper-sensitive to loud noises over the last few years, sometimes getting headaches from high-pitched sounds.
Then she gave me the test.
And then we went over the test results.
And then I cried,
And cried,
And cried.
The test ended up proving my worst fear; that I was in fact losing my hearing.
To make matters worse, the audiologist said my hearing loss was a lot worse than what she had anticipated. But she did explain to me that my hyper-sensitivity to loud and high-pitched sounds was a direct result of hearing loss. I had no idea this was a side effect, as it doesn't make sense that when you lose hearing in certain pitches, those exact pitches can become excruciatingly painful at high levels. It was a little validating to know I wasn't going crazy. And yet, it was a bitter, bitter pill to swallow.
That hearing test was 3 months ago.
I got my hearing aids 2 months ago.
And today I am finally able to embrace the experience and my hearing aids, because these little microphones have made it possible for me to not feel like an outsider in conversations anymore. As well as the mics, using a medical grade coating is used to protect every part of the device. I am so grateful for these.
Where I used to just sit out of a conversation for fear that I wasn't going to understand much of it, I now am an active participant in my life again.
All thanks to these: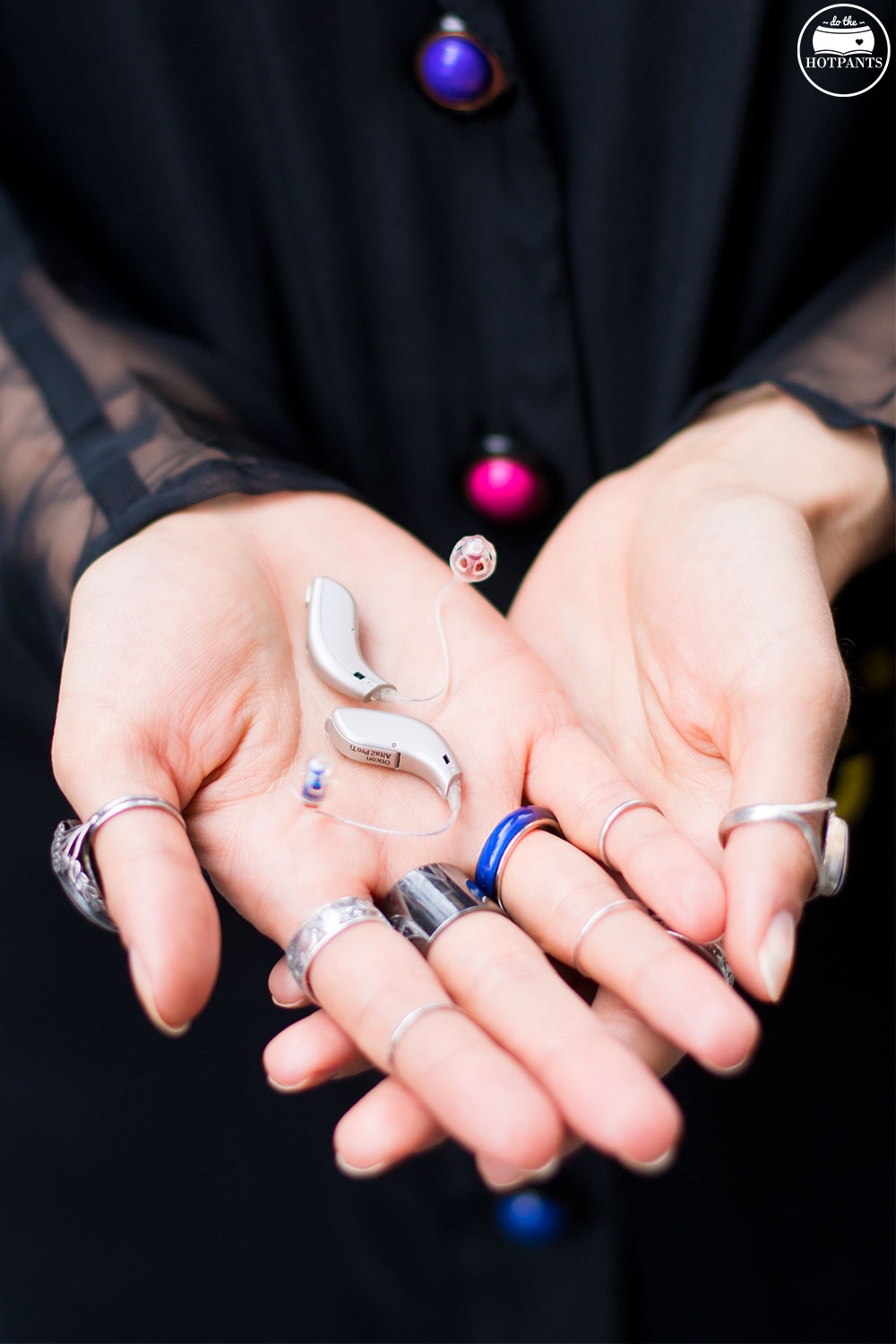 When I first realized I needed hearing aids, I was imagining those giant behind the ear devices that I remember kids wearing back when I was in elementary school. The kind of device that looked like the first Apple computer attached to your head.
Since I don't have anyone in my family with hearing issues, I haven't kept up-to-date with the advancement of hearing technology over the years…
So to say I was overjoyed and also SHOCKED to receive these tiny high-tech aids, is an understatement.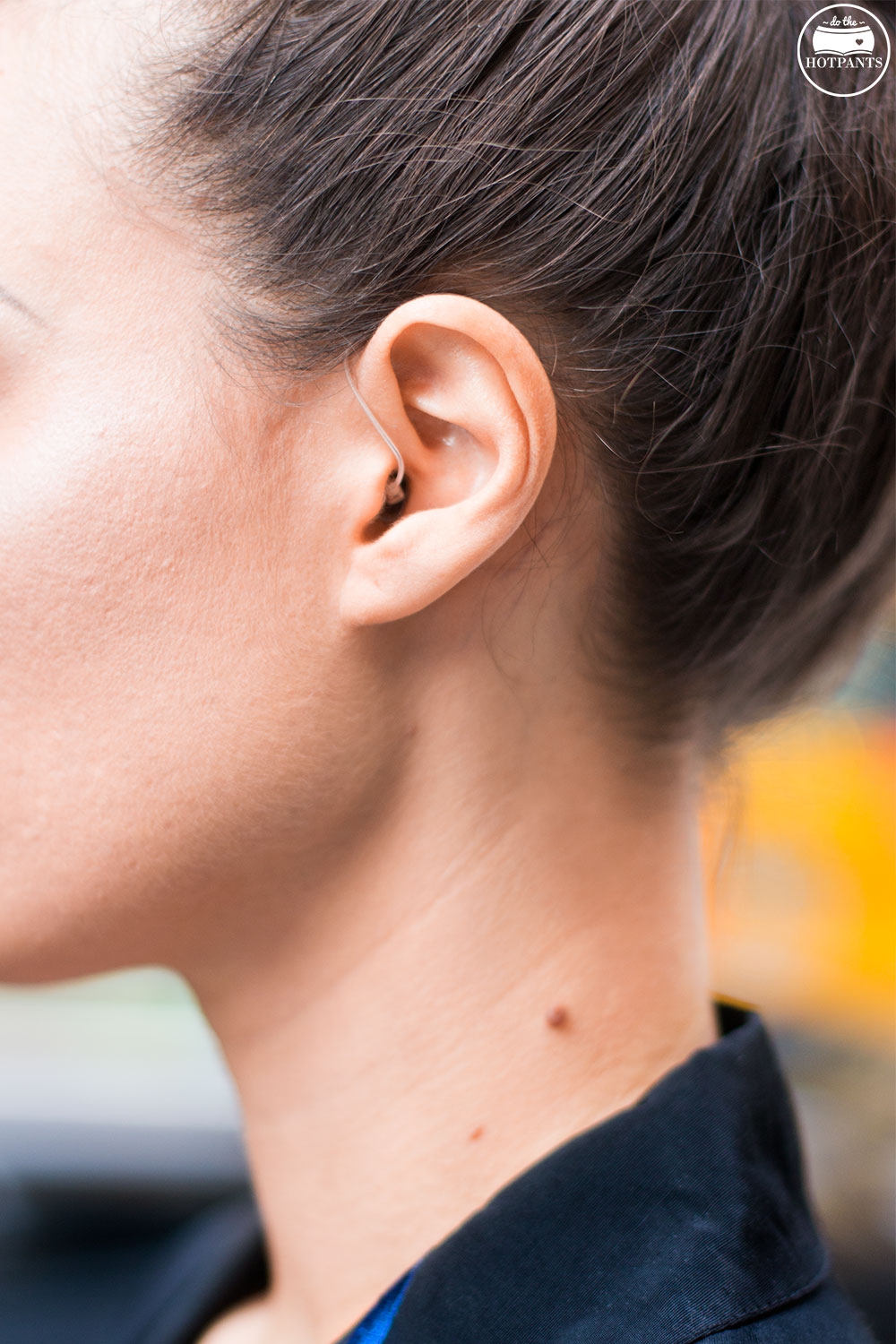 The fishing wire looking string that goes in my ear is the speaker.
The silver piece that goes over my ear is the microphone and battery. That's where sounds are picked up, and carried to the speaker inside my ear.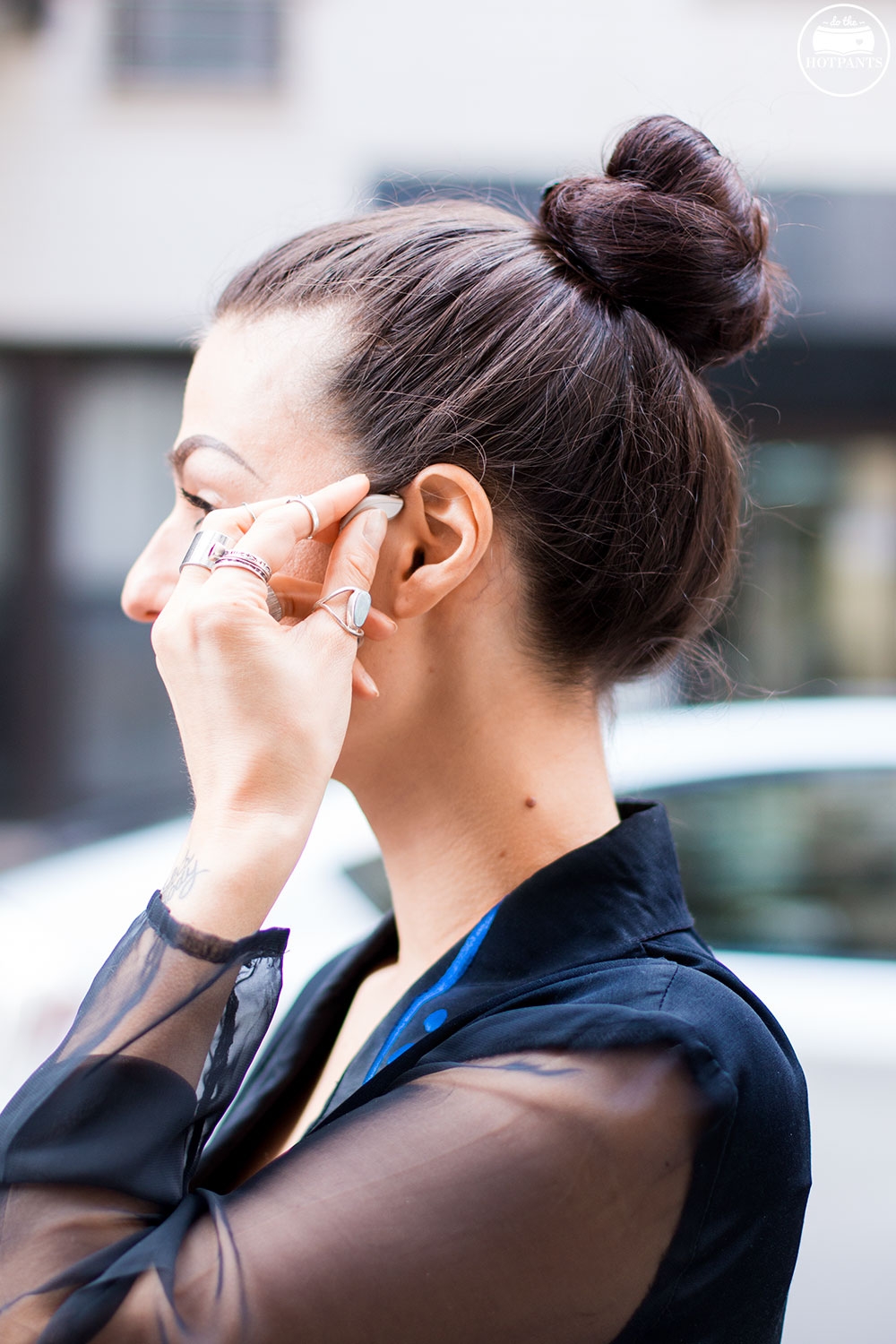 There's an on/off switch, and volume control button in the back, and that's it! I honestly still can't believe how small and inconspicuous these are.
In fact, if I didn't specifically point them out in this blog post, you would have never noticed them, right??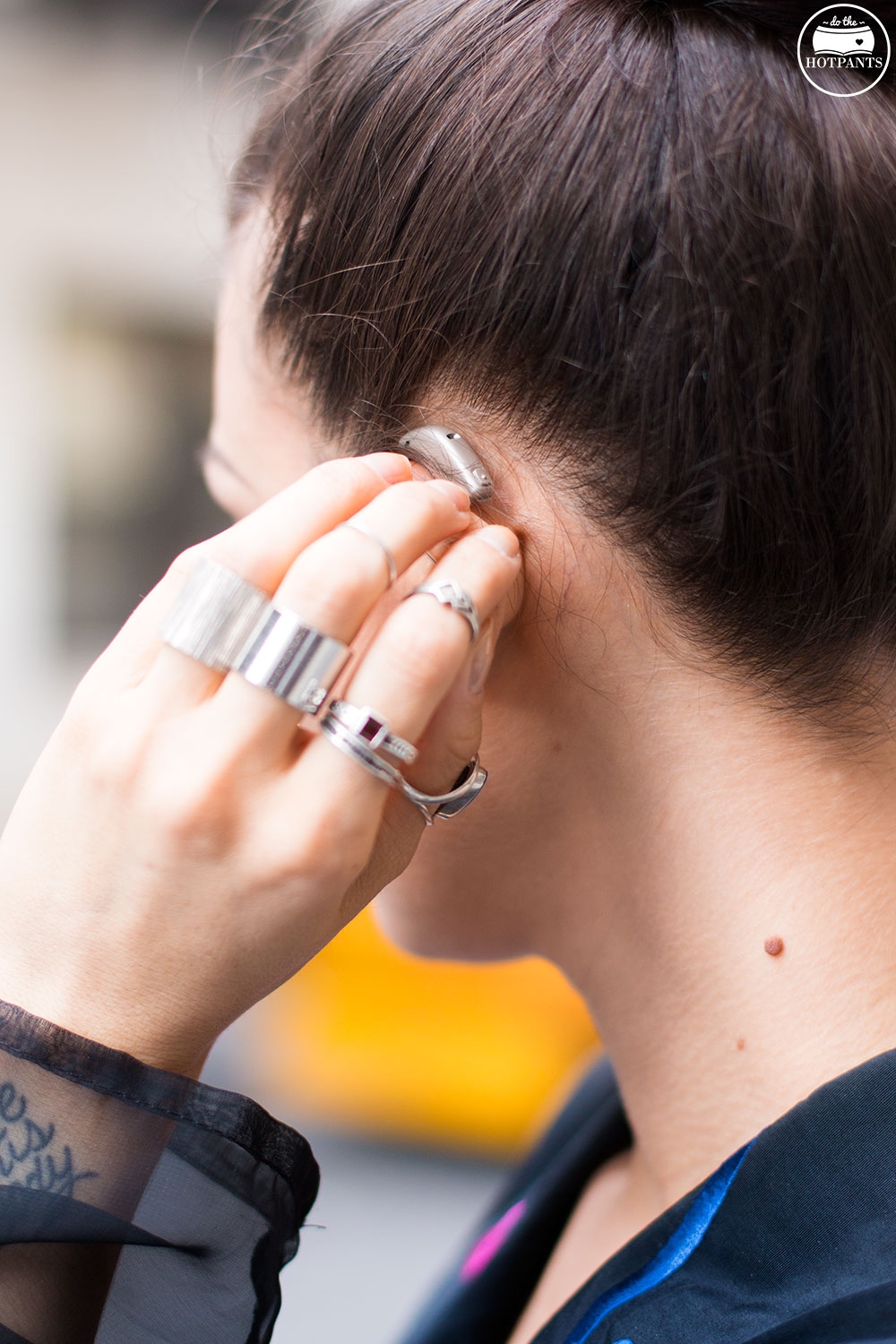 Here's what they look like before I put the little speaker part in my ear.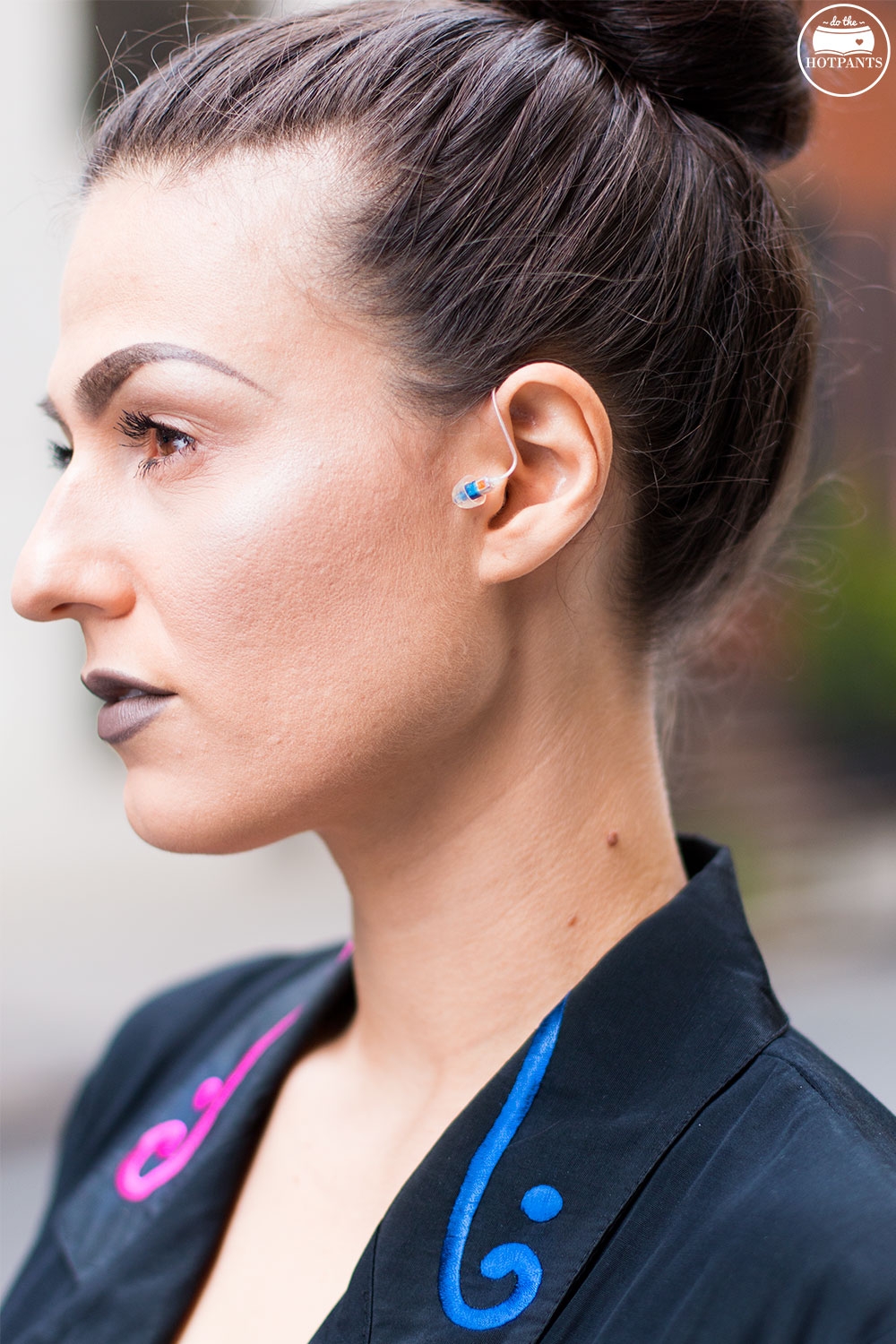 So while it's crazy for me to see just how far technology has come, I'm still coming to terms with the loss of my hearing.
Yes, I did this to myself.
With years of unprotected music enjoyment, I have forever altered my ability to listen to loud music or sit in complete silence. But even though I did it to myself, losing your bodily functions at such a young age, has been so difficult to not only adjust to, but to accept.
Yes, I know there are millions of people who have worse hearing, or can't hear at all. I know that I'm extremely blessed to be as able-bodied as I am, and that we all have our "stuff."
But not being able to listen to loud music anymore for fear of it accelerating my hearing loss…
Having to wear ear plugs at gym class to prevent walking out of class with terrible tinnitus…
And covering my ears every time the train comes or a siren goes by to avoid the pain of high-pitched sounds…
It's been hard.
Yes I have hearing aids to help me lead a normal life, and yes they're extremely tiny and even kind of cute, but if I don't take care of my hearing going forward, further hearing loss is a very real possibility for me.
As I write this right now, I'm sitting in silence, listening to my ears ringing, wishing I didn't have to worry about further hearing loss. My wish is to still be able to enjoy music and fall asleep to the sound of my cat's purrs, until the day I die.
For those of you who don't protect your ears, let my story be a lesson to you.
Please share this post with anyone you know who blasts headphones in their ears or plays in a band. Because I wish I had read a story like mine when I was younger. Maybe my hearing would still be intact.
And always remember:
Our bodies are not invincible or unbreakable. We are as fragile as we are strong. And if you don't respect your body and take care of it, it won't be around forever to respect and take care of you.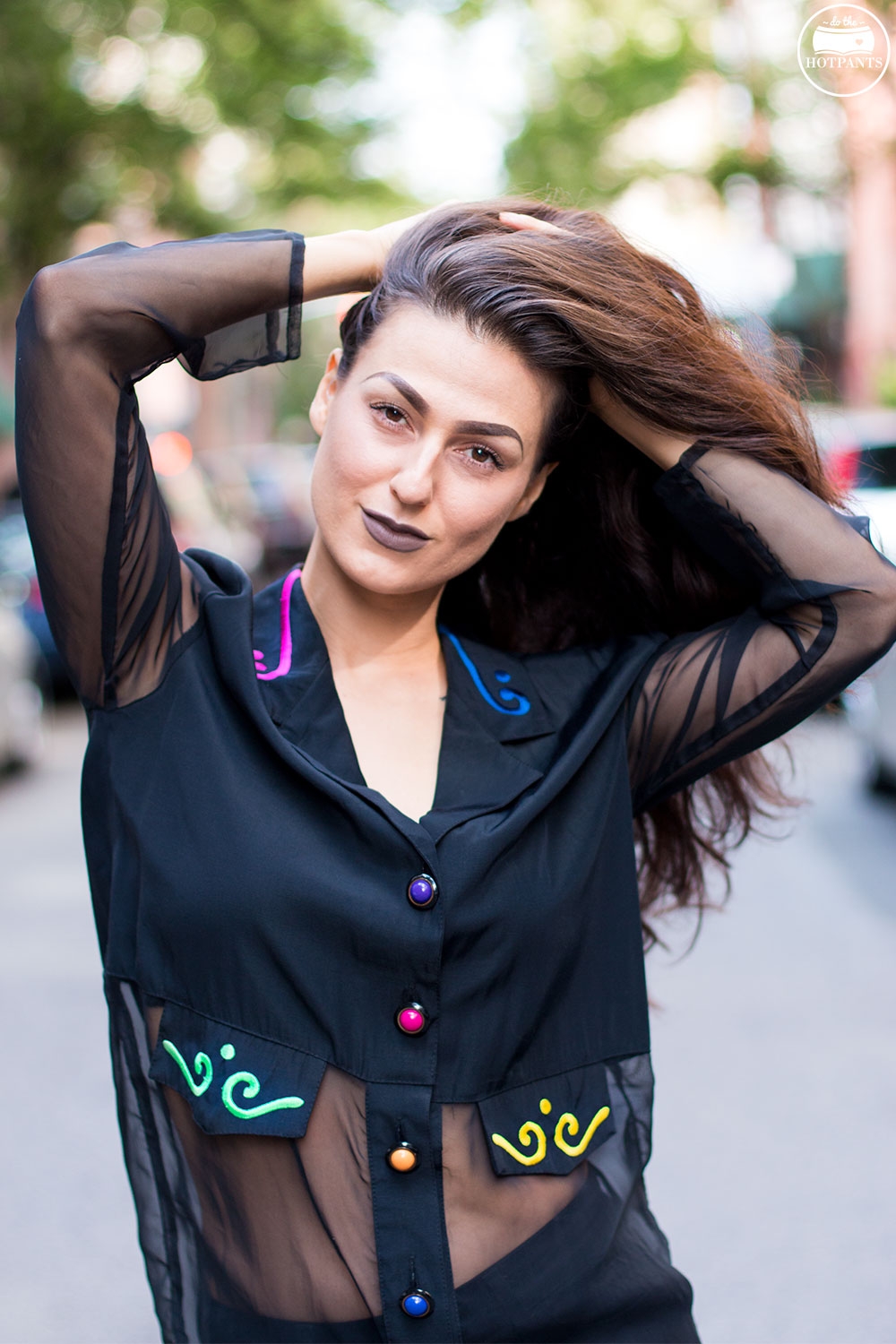 LATER DUDES,
XX-HOTPANTS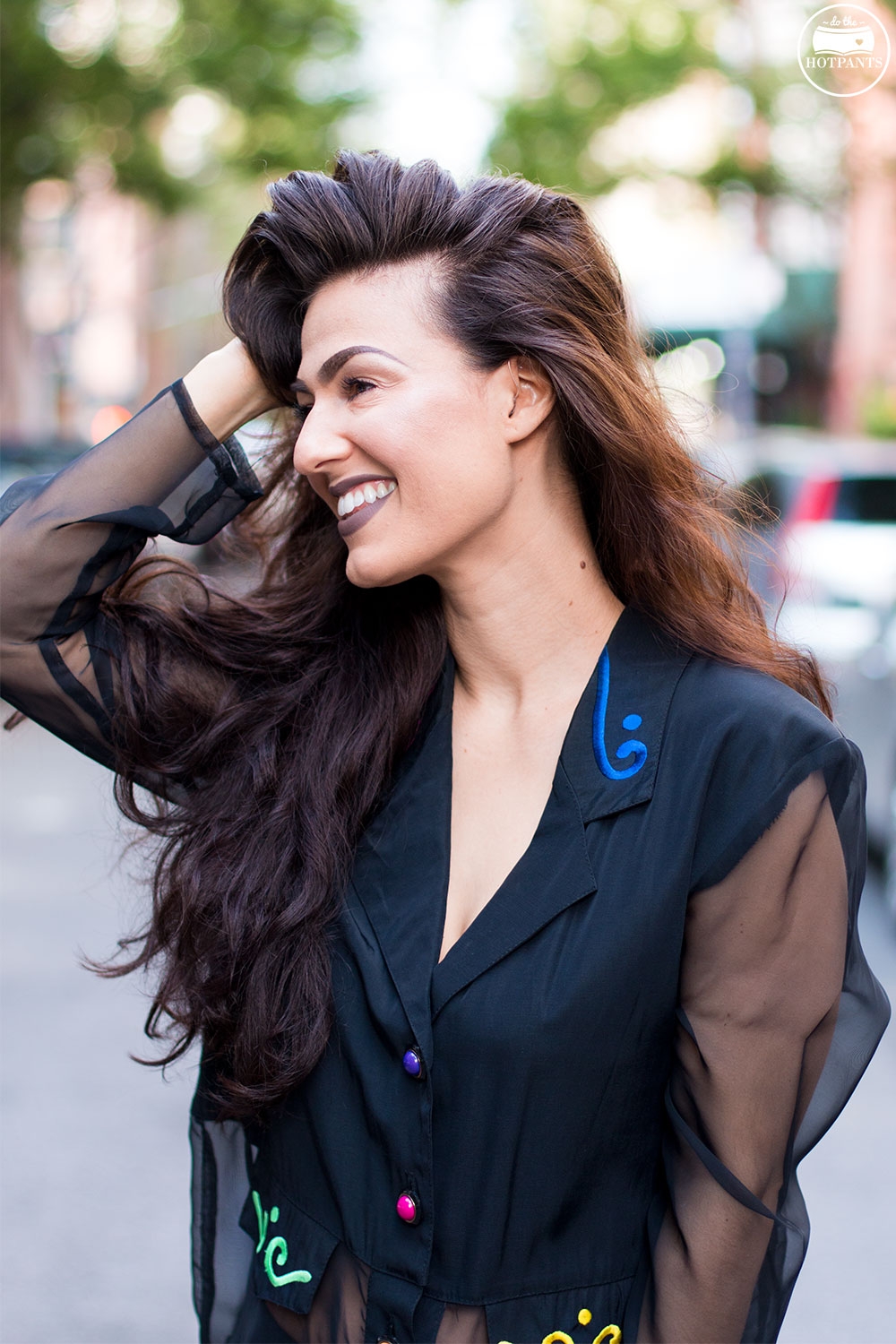 Wearing
Lipstick : MAC Stone / Blouse : Vintage
Photography : Spree Wilson